Veteran's Badge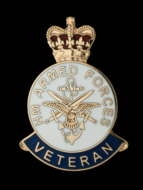 The Minister for Veterans, Ivor Caplin MP, launched a new Veterans' Badge on 10 May as part of the continuing commemoration of 60th anniversaries associated with the Second World War.
The new badge, designed to be worn on the lapel of civilian attire by former Servicemen, has been developed in association with veterans' organisations and is intended to help the wider public recognise veterans and the contribution they made. The first tranche of badges is being given to veterans attending the various 60th anniversary events running up to the commemoration in 2005 of the end of the Second World War. First World War veterans are also eligible to receive the badge, and if there is sufficient demand, consideration may be given to extending eligibility to veterans of more recent campaigns.
To obtain your free veteran's badge, write to the;
Assistant Private Secretary, Parliamentary Under Secretary of State for Defence, Ministry of Defence, Whitehall, LONDON SW1A 2HB.
OR
Any Royal British Legion Branch.