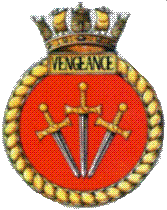 'I Strike, I Cover'
Technical Details
Ordered: 7th August 1942.
Laid down: 16th November 1942.
Launched: 23rd February 1944. By Mrs.D.W. Boyd. (Wife of Rear Admiral Boyd CB, CBE, DSC).
Built by: Swan Hunter & Wigham Richardson Limited, Wallsend-on-Tyne, Newcastle.
Commanding Officer: (R.N.) Captain D.M.L. Neame. (R.M.) Captain D.S.O. Farrer.
Completed: 15th January 1945.
Displacement: 13,190 tons. (Standard). 18,040 tons. (Deep Load).
Length: 693ft. 9ins.
Beam: 80 feet.
Draught: 23ft. 1in. (Forward). 23ft. 5ins. (Aft).
Machinery: Two shaft Parsons geared steam turbines, Four Admiralty 3 drum boilers.
Power: 36,000 SHP.
Speed: 25 knots.
Endurance: 5,900 miles. (Full Speed).
Oil Fuel: 3,196 tons.
Armaments: Twenty Four 2 pdr. Pom Pom quad mountings. Twenty Two 20mm. Oerlikon twin mountings. Ten 20mm. Oerlikon single mountings. (Above guns replaced by between twelve & twenty one single 40mm. Bofor's in July 1945, at Sydney, Australia.
Aircraft: Thirty Seven to Forty Eight. Barracuda Mk.II's. Chance Vought Corsair Mk.IV's. (Barracuda II's later changed to Fairey Fireflies FR.1's in January 1946).
Squadrons: Two. No.812 & No.1850.
Complement: 1,300.
Arrester Wires: Ten 15,000lb. at 60 knots. Two Crash barriers.
Hangar: 332 feet long, 52 feet wide, 17ft. 6ins. high.
Catapult: One BH3 (twin track), launching 16,000lb. at 66 knots.
Lifts: Two. (Forward & Aft), each 45 feet long, 34 feet wide. Both capable of lifting 15,000lbs.
Aircraft Fuel: 98,600 gallons of AVGAS.
Air Weapons: 18inch Torpedo's. 1,000lb.MC Bombs. 500lb. SAP Bombs. 250lb. MC Bombs. 3inch RP. Mk.11 Depth Charges. Aircraft Mines. 0.5inch Gun Ammunition. Flares. Pyrotechnics.
Pennant No: R 71. Deck Letter 'A' until 1948. Deck Letter 'M' until 1949. Deck Letter 'N' until 1953. Deck Letter 'Q' until 1956.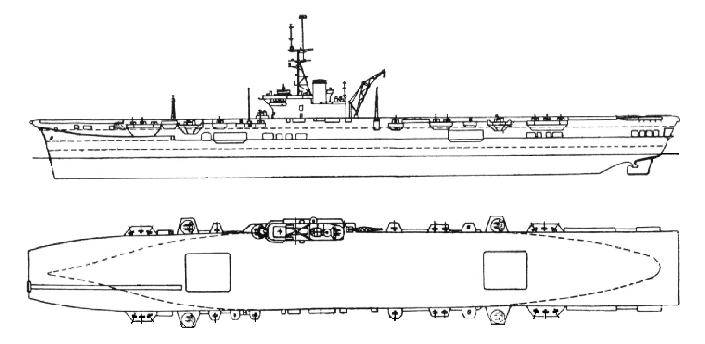 Original 'Colossus Class' overview.