H.M.S. Reaper ( D82 )
Ruler Class Ferry Carrier
Laid down: 5 June 1943.
Launched: 22 November 1943.
Completed: 21 February 1944.
Builder: Seattle Tacoma Shipbuilding Corp., Seattle.
Machinery: 1-Shaft Allis Chalmers geared turbine; 2 Foster Wheeler boilers; 8,500 shp=18 knots.
Displacement: 11,400 tons standard 15,390 tons deep load.
Dimensions: 492ft overall x 108ft 6in max. beam x 25ft 5in max. draught.
Gun armament: 2 single 5in US Mk 12 (2); 8 twin 40mm Bofors (16); 14 twin 20mm Oerlikon (28); 7 single 20mm Oerlikon.
Fuel: 3,160 tons FFO.
Endurance: 27,500 miles @ 11 knots.
Complement: 646.
Protection: Splinter protection for bomb room.
Flight Deck: 450ft x 80ft wood covered steel.
Arrester wires: 9 x 19,800 lb @ 55 knots; 3 Barriers.
Hangar: 260ft x 62ft x 18ft.
Catapults: 1 x H4C; 16,000lb @74 knots(tail down method only).
Lifts: fwd 42ft long x 34ft wide; aft 34ft long x 42ft wide; both 14,000lb.
Aircraft: Up to 90 could be ferried; up to 30 could be operated.
Aircraft fuel: 36,000 gallons Avgas.
Air weapons: None carried.
Notes: One of 23 ships of the USN. Prince William Class transferred to the R.N. under lend/lease arrangements and named, in the main after types of 'Ruler'. This ship was built from the outset as a carrier but based on the US C3.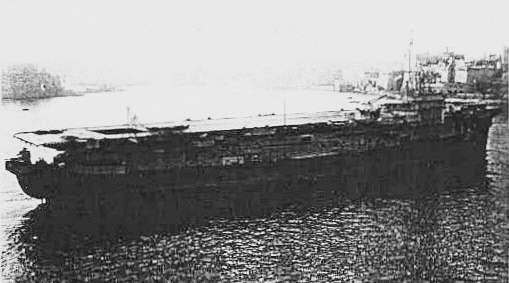 H.M.S. Reaper ferried No.1850 Squadron from New York, USA to Belfast, Northern Ireland from the 23rd November 1944 to 6th December 1944.
H.M.S. Reaper, ferrying a full deck load of Aircraft in April 1945.