H.M.S. Vengeance through the ages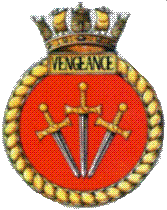 The aircraft carrier HMS. Vengeance was the seventh ship to carry the name 'Vengeance'. Here is a brief history of the first six;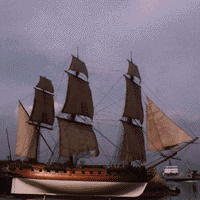 Replica of a 18c. Frigate similar to the first Vengeance.
The first Royal Navy ship to carry the name HMS. Vengeance was a 28 gun Frigate which was captured from the French by HMS. Hussar in February 1758, in a single ship engagement off The Lizard, Cornwall. She was bought for the Royal Navy and commissioned as a 6th Rate. She was 117 feet in length, with a beam of 321.5 feet, a displacement of 533bm. (bm=builders measurement) and ships complement of 200. In 1759 under the Command of Gamaliel Nightingale, Vengeance took a small part in the action off Quiberon Bay, under Admiral Sir Edward Hawke (later Lord Hawke). In 1760 she fought against the French in the St. Lawrence, leading up to the capture of Quebec, although she was not present at the final assault. On 13th March 1761 she fought and captured the larger French ship 'Entreprenant', a French armed ship of a superior size to herself. In 1776, she was sunk to form part of the new breakwater at Plymouth in Devon.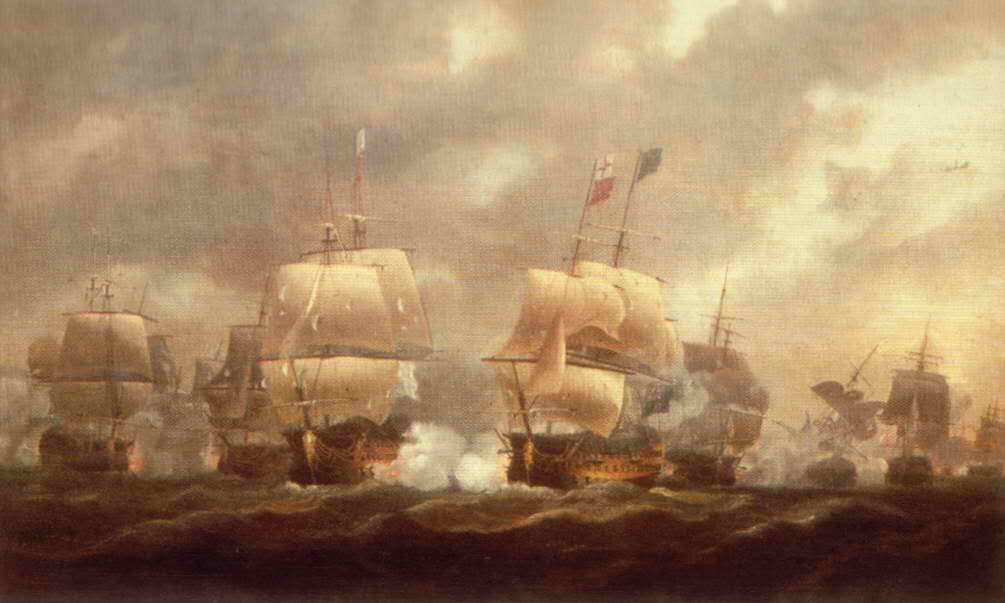 Quiberon Bay 1759.
The second Vengeance was a 3rd rate, 74 gun ship of the Royal Oak class and was built at Randall's of Rotherhithe, London costing £43,820. She was launched in June 1774 and was 166 feet in length, with a beam of 46 feet and a displacement of 1627bm. (bm=builders measurement) With two gun decks, her broadside could fire seven times the amount of cannon fire, than her predecessor could. Vengeance was one of twenty ships on a training cruise under Admiral Lord Augustus Keppel when they encountered a French fleet at D'Orvilliers on 26th July 1778. She first saw action on 27th July 1778 during the American War of Independence at the Battle of Ushant, under the command of Captain Michael Clements. Vengeance enjoyed an active career, mainly in the West Indies, taking part in numerous actions and skirmishes during that time. On 21st December 1779 in company with three other 3rd rates, they captured the French frigates Blanche, Fortunee and Elise under Rodney against De Guichon and the French in 1780. On 12th February 1793, Thomas Trotter M.D. joined the ship, one of only four Royal Navy doctors of that time. With Vengeance again back in the West Indies during the Revolutionary Wars, she took part in the capture of Martinique and St. Lucia, in a very successful combined operation, of those times and gaining battle honours in Martinique (1794) and St. Lucia (1796) under the command of Captain Thomas Macnamara Russell she was also a unit of the Fleet which captured Trinidad. In January 1808 she was converted to a prison ship at Portsmouth and was broken up in 1816.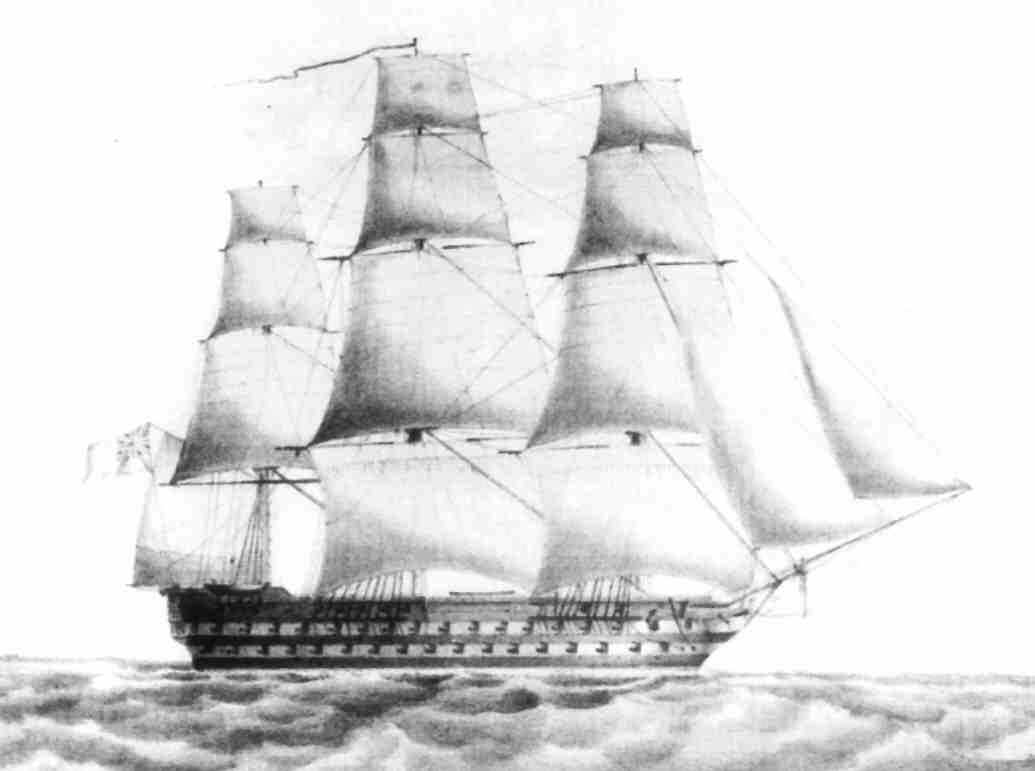 HMS. Vengeance 74 Gun.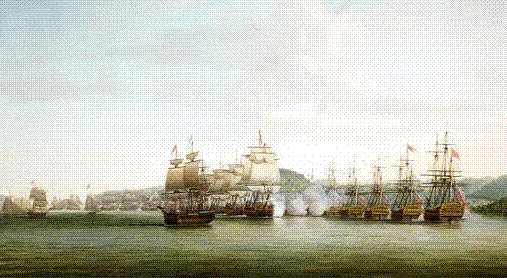 St. Lucia 1778.
There was much confusion at this time as the third and fourth Vengeance's were around at the same time as the second. One was a 50 gun 4th rate French Frigate captured on 21st August 1800, following a several hour chase and three fierce engagements and named 'La Vengeance' she was launched in 1793. Having being bought for the Royal Navy, she had endured serious damage during her capture and was unfit for active service. She was used as a prison ship in Jamaica and became stranded during a storm in 1801 and was broken up shortly afterwards. The other was a Dutch Hoy, a sloop-rigged coastal merchantman, that was used as a tender and possibly called 'Lady Augusta' which was bought by the Admiralty in November 1793 and coverted into a warship. She was sold in 1804.
The fifth Vengeance was a modified 'Formidable' class second rate 84 gun ship, launched at Pembroke Dock on 27th July 1824. Under the Command of Captain Lord Edward Russell, she assisted in the opening bombardment of the Forts at Sebastopol on 17th October 1854 in company with HMS. Britannia, Trafalgar, Queen, Rodney and Bellerophon and earning battle honours for the Crimea (1854). In 1861 she became a receiving ship at Devonport. The ship was also sold in May 1897, her successor was well under construction by this time.

HMS. Vengeance at Sebastopol on 17th October 1854.
The sixth Vengeance was a 13,150 ton Canopus Class Battleship commissioned at Barrow on 25th July 1899, designed by Sir William White, Director of Naval Construction from 1886 to 1902 and costing £783,721. She was Commanded by A. H. Williamson and her main armament was 4 x 12 inch guns in twin turrets fore and aft, 12 x 6 inch guns and 12 x 12lb. quick firing guns for use against torpedo boats. She also had 4 x 18 inch underwater torpedo tubes. She initially served on the Far East and China Stations returning to home waters in 1905. At the outbreak of the First World War, the ship was obsolete. In early 1915, commanded by Captain H. A. Adam she joined the Fleet and took part in operations, where her armament was needed off Gallipoli and served as flagship at Dardanelles, on 19th February 1915, earning further battle honours. She remained in the Dardanelles until June 1915 where she was paid off. Her gun turrets were removed and she spent the remaider of World War 1 as a troopship. She was sold in 1921 and broken up in 1923.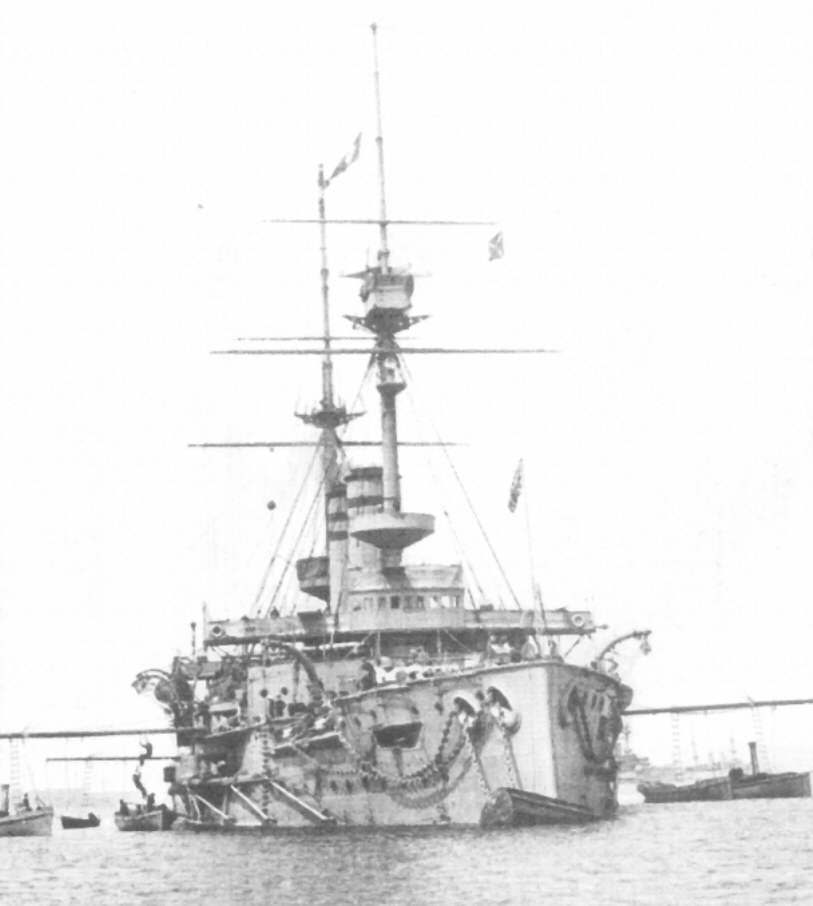 HMS. Vengeance in 1904.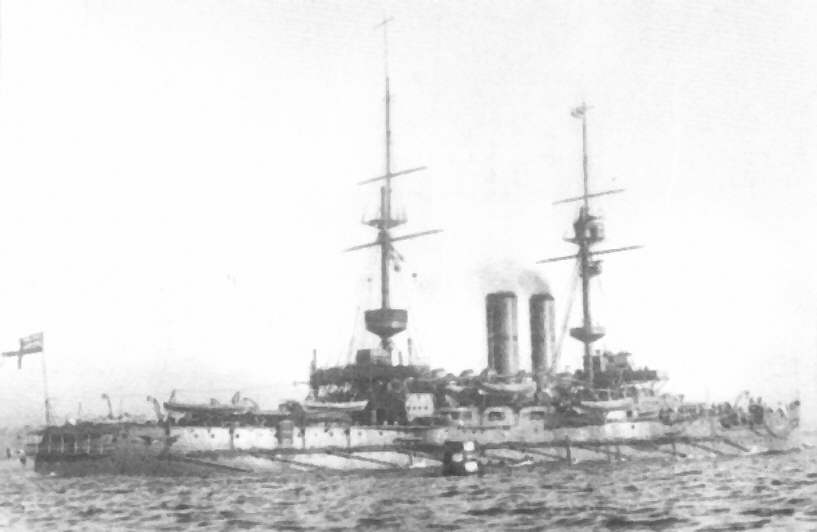 HMS. Vengeance in 1906.
BATTLE HONOURS
Quiberon Bay 1759
Martinique 1794
St. Lucia 1796
Sebastopol 1854
Dardanelles 1915