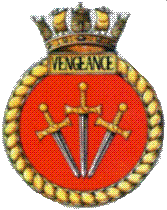 Minas Gerais News
Source: 'Battle of the Atlantic Memorial Ships'.
23rd October 2001. Minas Gerais, formerly HMS. Vengeance, was finally decommissioned from the Brazilian Navy on Tuesday 16th October 2001, after almost 57 years after she was launched. She has completed service in three different Navies, the Royal Navy, the Royal Australian Navy and the Brazilian Navy within that time.
14th November 2001. A meeting with BAE will take place on the 19th November, re-preservation of Minas Gerais.
19th November 2001. The meeting with BAE has taken place, although no finances were offered. A BAE representive is flying to Rio on the 1st December. RNA to be approached to ascertain if they can provide a crew to sail the ship home. 1850 Squadron Association has offered support.
21st November 2001. From communications received, the Brazilians would prefer the ship to be preserved in the U.K. A top meeting is to take place next week with the Naval Attache present, to discuss her future.
27th November 2001. The future of Minas Gerais is to be the topic of discussion at the Naval meeting in Rio tomorrow, with our Naval Attache included. ABP in Southampton have offered a lay-up anchorage.
30th November 2001. Minas Gerais is currently in Rio de Janeiro Naval Dockyard, supplying power from her generators. Negotiations are presently being undertaken, to purchase the ship and return her to the U.K., via the 'Battle of the Atlantic Memorial Ships' although the Mayor of Rio de Janeiro also wanted to purchase her for the city. The original price of the ship was $2M. (US) but this has now increased to $4M. (US) and an Oil Production Company are also interested in buying her. It is estimated it will cost $6M. (US) to get her home.
21st December 2001. Support is now growing and a Web site is being constructed for the "Save the Vengeance" campaign. A proposal is being prepared and it is hoped that pledges of finance will be in place by the 11th hour. I am feeling more optimistic, that with all the support gathering together now, we can raise the cash between January and May 2002. The campaign to save the ship looks like being a very close contest and has been brought to the attention of the Royal Family.
28th December 2001. Press Release to all major U.K. newspaper and TV companies to highlight the "Save the Vengeance" campaign. Press Release in Australia also, to coincide with the release in the U.K.
7th January 2002. Draft Proposal for "Save the Vengeance" campaign sent to Brazil and being translated into Portuguese. It will then be passed to the Brazilian Admiralty, as soon as the deposit can be guaranteed. This must be achieved by the end of this week, to be in with a potential winning offer.
22nd January 2002. The Brazilian Navy has deferred any decision on the ship until February 6th 2002. Apparently there are a total of 6 proposals for buying her. The main contenders appear to be the Oil industry, for use as a drilling rig.
21st February 2002. The Brazilian Admiralty has rejected the oil companies proposals, they want the 'Battle of the Atlantic Memorial Ships' to compete on an even playing field with the Mayor of Rio de Janeiro. A tender has to be submitted within 40 days.
11th March 2002. We have received advise from Brazil that we have to respond to their offer to tender for 'MINAS GERAIS' by the end of April 2002.
14th March 2002. We have received our official documents from the Brazilian Government and the time table is tight compared with what we thought. The process begins after Easter and the offer has to be in by April 18th. The final decision is on April 29th and hand over within 60 days. The indication are that towing should be in our proposal as the method of delivery. They have fixed the minimum price for the ship at £2.4 million. We now need £4m. by Easter.
24th April 2002. Latest from Brazil is that we understand things did not go as planned for the Brazilians. They are now keen for us to send our man out and to negotiate. We expect he will go out at the beginning of May and James Watling (Chairman of HMS. Vengeance Association) has offered to go with him.
22nd May 2002. Our representatives have come back from Rio. We have a final deadline of the end of the month.
16th June 2002. Media coverage feature about HMS. Vengeance in the Sunday Telegraph newspaper, page 17.
30th June 2002. We could not make the deadline to comply with the original terms and have now been granted until July 17th to make an offer. We will be in competition with the scrap merchants and the figure quoted to me is that they will go to $2m. We will keep trying.
12th July 2002. The BBC News intend running news bulletins re-HMS. Vengeance and Minas Gerais on Saturday 13th July (BBC 2) at 07.00hrs. to 08.15hrs. and 09.00hrs. to 10.00hrs. Sunday 14th July (BBC 1) 06.00hrs. to 08.00hrs. Also being shown on satellite - BBC 24 News.
13th July 2002. BBC 24 News showed archive pictures of HMS. Vengeance and were aboard Minas Gerais in Rio de Janeiro. They also interviewed the 'Vengeance Association' Chairman, James Watling and the first Captain of Minas Gerais, Hélio Leôncio Martins, who both wished that the ship could be preserved. Further details of the story can be viewed by clicking HERE or BBC Breakfast News HERE.
14th July 2002. Received the latest photographs of Minas Gerais at quay of Arsenal de Marinha, Rio de Janeiro, Brazil.
18th July 2002. BBC (Devon) features HMS. Vengeance Appeal on TV and publishes details on their website with photographs and Links. Further details of the story can be viewed by clicking HERE.
26th July 2002. The Brazilian Government have postponed the final decision on the purchase of the ship until next week.
2nd August 2002. No final decision has yet been made regarding the ship. BBC Newsline (N. Ireland) show archive pictures of HMS. Vengeance and interview former crew members of the ship from Belfast.
27th September 2002. A key meeting is planned for early next week in the South West of England regarding the possible ship's return to the U.K.
5th October 2002. The meeting in Exeter went well and a press statement was issued immediately afterwards by the Chamber of Commerce. A major effort is under way by them, to raise the finance in their area to acquire the ship as a museum and tourist attraction. The areas under consideration are Falmouth, Plymouth and Torbay.
8th June 2003. The 'Mail on Sunday' runs a story on HMS. Vengeance/Minas Gerais and asks for all ex-serving members to contact their News Desk on +44 (0)207-938-7040. E-mail: newsdesk@mailonsunday.co.uk
15th June 2003. The 'Mail on Sunday' runs a follow up story on the ship, featuring some of the former crew and squadron members.
30th September 2003. The planned berthing at Leith in Scotland is withdrawn as Phillip Bush, the alleged owner, cannot provide documentary proof of ownership.
12th December 2003. Minas Gerais is for sale on a Canadian Boat Sales website.
26th January 2004. Last day of auction on E-bay website after 10 days. Required bids in region of $7 million US dollars. A tug arrives in Rio de Janeiro, to take Minas Gerais in tow.
12th February 2004. Reports from a Brazilian newspaper, that Minas Gerais is being towed to India to be broken up and the scrap metal is being sold to China.
1st April 2004. Minas Gerais was seen off the coast of Mauritius on the 25th March in tow by a tug en-route to India. Click here to see photographs.
11th July 2004. The 'Mail on Sunday' newspaper publishes a story with photographs of Minas Gerais being broken up at Alang Shipyard, Gujarat, India.
25th July 2004. Red Door News, based in Hong Kong published a follow-up article on the breaking of Minas Gerais in India. Click here to see story.
See 'Items of Interest' page for more news cuttings.