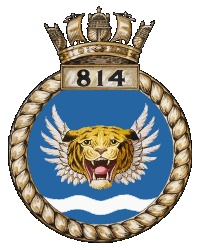 'In hoc signo vinces' - In this sign you will conquer
'No.814 Royal Navy Squadron'
(1st December 1938 to 26th June 1951)
No.814 Squadron was first formed at Southampton on 1st December 1938 as a torpedo spotter reconnaissance unit with six Swordfish I's. It embarked on HMS. Ark Royal in January 1939, but transferred to HMS. Hermes on the outbreak of the war, with an increased compliment of nine aircraft. In October 1939 the ship sailed for West Africa, to join French ships operating out of Dakar and Freetown, an unsuccessful search being made for the German battleship 'Graf Spee'. After the French surrender the squadron had the unhappy task of attacking the former Allies ships causing considerable damage to the battleship 'Richelieu' at Dakar on 8th July 1940.
In December 1940 HMS. Hermes sailed for the Indian Ocean to undertake searches and convoy protection off East Africa. Support was provided in February 1941 for advancing land forces in British Somaliland, the squadron aircraft enabling the capture of five enemy merchant ships by the cruiser HMS. Hawkins, another being bombed when it refused to surrender. In May 1941 support was given to the RAF in Iraq, following which No.814 re-embarked for further trade protection duties in the Indian Ocean, disembarking to Ceylon in November 1941. Re-embarking in February 1942 to help search for a Japanese carrier force, No.814 was ashore on 5th April 1942 when HMS. Hermes was sunk by Japanese aircraft four days later, on 9th April 1942. The squadron remained ashore on patrol duty and other tasks until being disbanded at Katukurunda, Ceylon on 31st December 1942.
No.814 reformed at Stretton on 1st July 1944 as a torpedo reconnaissance unit with sixteen Barracuda II's increasing to eighteen at the end of the year. In March 1945 these embarked on HMS. Venerable and after working up in the Mediterranean sailed for the Far East, where the squadron reduced to twelve aircraft in June 1945, becoming part of the 15th Carrier Air Group. It saw no action in that theatre before the Japanese surrender. In December 1945 it began to re-equip with twelve Firefly FR.I's at Schofields and re-embarked with these in March 1946. After further service in the Far East it returned home on HMS. Venerable and disembarked to Eglinton on 26th March 1947.
In 23rd September 1947 the squadron re-embarked for the Mediterranean aboard HMS. Vengeance, remaining ashore at Ta Kali from November 1947 until 16th March 1948, when it took passage home on the SS.Otranto without her aircraft. In April 1948 eight Fairey Firefly FR.4's were received at Eglinton and these embarked on HMS. Vengeance on 16th August 1948, a visit being made to South Africa before returning home for Christmas. In the New Year, 28th January 1949 HMS. Vengeance sailed for the Artic Circle for cold weather trials. The first Mk.5's were received around this time, the squadron being completely re-equipped by the time it re-embarked again on 12th September 1949. In early 1950 the squadron spent two months in the Mediterranean and in July 1950 paid a visit to Norway. On the 9th September 1950 the squadron re-embarked on HMS. Vengeance, but on the 19th November 1950 it disbanded at Culdrose.
No.814 reformed again three days later at Culdrose, on 22nd November 1950 using Firefly FR.1's until it's six AS.6's arrived at the end of January 1951. With No.809 Squadron they formed the 7th Night Air Group, this being the first all-weather group. It embarked again on HMS. Vengeance on 10th May 1951, for it's work-up with the Group, during which it completed 927 hours of night training, it received the annual award of the 'Boyd Trophy'. The squadron then transferred from HMS. Vengeance on 26th June 1951 to the 15th CAG in September 1951.