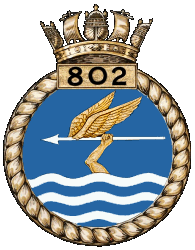 'Primus ferire' - First to strike
'No.802 Royal Navy Squadron'
(3rd April 1933 to 26th April 1951)
No.802 Squadron was formed on 3rd April 1933 from No's.408 and 409 Flights as a Fleet Fighter squadron, embarked in HMS. Glorious with the Mediterranean Fleet. Equipped with nine Nimrods and three Ospreys, it returned to the United Kingdom when the ship was paid off for a refit in 1934. After short periods on HMS. Courageous, the squadron rejoined HMS. Glorious for further Mediterranean service, re-equipping with twelve Sea Gladiators in May 1939. In April 1940 the ship was recalled to participate in the defence of Norway, but on the 8th June 1940, she was sunk by the German battle cruisers 'Scharnhorst' and 'Gneisenau' with all her aircraft. No.802 Squadron then ceased to exist.
On 21st November 1940 part of No.804 Squadron broke away to form a new No.802 Squadron at Hatston, with twelve Martlet I's. A small number of these were embarked on HMS. Audacity during July 1941. and two on HMS. Argus as No.802B Flight the following month, these later transferring to HMS. Victorious. In September 1941 the whole squadron embarked on HMS. Audacity for service, escorting Gibraltar convoys, during which four Focker Wolff 200's were shot down, unfortunately, the C.O. suffered a similar fate on the 8th November 1941. The squadron again went down with the ship and ceased to exist when HMS. Audacity was sunk by the U-boat U-741 on 21st December 1941.
The squadron next reformed at the Yeovilton on 1st February 1942 with six Sea Hurricane Ib's and after extensive work-up, embarked on HMS. Avenger in September 1942 for patrol duty whilst escorting North Russian convoy PQ18. In conjunction with No.833 Squadron, five enemy aircraft were shot down and seventeen others damaged. On return to Halston No.802 re-equipped with nine Sea Hurricane IIb's in September 1942 then re-embarked on HMS. Avenger, the ship providing escort for a convoy destined for the invasion of North Africa. After providing fighter cover of the invasion beaches in Algeria, the ship sailed as escort for a UK bound convoy, but No.802 suffered the same fate as it's two predecessors, when HMS. Avenger was torpedoed on 15th November 1942 by U-155.
The squadron number then lay dormant until 1st May 1945 when No.802 reformed at Arbroath as a single seat fighter unit with twenty four Seafire L.III's. In August 1945 these were transferred to No.806 Squadron and twelve Seafire XV's replaced them. After a short spell on HMS. Queen, the squadron was to have left for the British Pacific Fleet as part of the 9th CAG, but VJ-day intervened and instead, it spent some time at Ayr, deck landing training being carried out on HMS. Premier. In April 1946 the squadron personnel sailed for the far East without their aircraft, intending to relieve No.1850 Squadron on HMS. Vengeance. However, on arrival twelve new Seafire XV's were received and these were embarked on HMS. Venerable instead. In March 1947, HMS. Venerable sailed for home and on arriving at Plymouth on 30th March 1947 No.802 disembarked to Eglinton.
Seafire XV's were again the equipment when the squadron regrouped with twelve aircraft at Eglinton on 1st May 1947 as part of the 15th CAG. Embarking on HMS. Vengeance on 24th September 1947, the Group later sailed for the Mediterranean , but No.802 was shipped home in March 1948 to re-equip with thirteen Sea Fury F.10's, these were soon changed for FB.II's and the squadron re-embarked on HMS. Vengeance in August 1948 for service in Home Waters and the Atlantic until 26th April 1951.