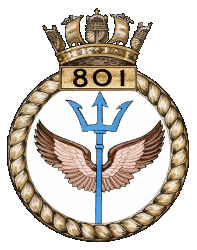 'On les aura' - We'll get them
'No.801 Royal Navy Squadron'
(3rd April 1933 to 7th September 1951)
No.801 Squadron was formed from No.401 Flight at Netheravon on 3rd April 1933 as a Fleet Fighter squadron with three Flycatchers and six Nimrods and embarked with these on HMS. Furious for service in Home Waters and Mediterranean Fleet. The Flycatchers gave way to Ospreys in early 1934 and the Nimrods were withdrawn in October 1936. Skuas and Sea Gladiators were received in early 1939 for service on HMS. Courageous as a Deck Landing Training squadron, but on transfer of the Fleet Air Arm to the Admiralty control on 24th May 1939 it was reclassified as a second line unit and renumbered 769 Squadron.
On 15th January 1940 No.801 reformed at Donibristle with six Skuas, taking part in Norwegian operations from HMS. Ark Royal in April. Transferring to HMS. Furious, the strength was increased by six Rocs in June, but these were soon replaced by further Skuas. However, after a spell ashore the squadron was redesignated No.800X Flight on 2nd May 1941.
The squadron reformed again on 1st August 1941 at Yeovilton with twelve Sea Hurricanes and later spent some time in defence of Scapa. In May 1942 it joined HMS. Argus and sailed for the Mediterranean, where it transferred to HMS. Eagle to see action in the Malta convoys, but when that ship was torpedoed and sunk on 11th August 1942, the squadron ceased to exist. A few aircraft were in the air at the time and landed on other ships, but the surviving crews were absorbed into other squadrons.
On 7th September 1942 No.801 squadron formed up again at Stretton, temporarily equipped with twelve unmodified RAF Spitfire Va's and Vb's. These quickly gave way to twelve Seafire Ib's, No.801 being the second squadron to be equipped with this type, a few IIc's also being used from time to time. In October 1942 the squadron embarked on HMS. Furious for participation in the North Africa landings, after which the ship returned to join the Home Fleet based on Scapa Flow, No.801 carrying out operations in the North Sea and also convoy escort. On 3rd April 1944 cover was provided for a FAA bombing raid on the battleship Tirpitz, a similar role being undertaken the following month.
In May 1944 the squadron re-equipped with twelve Seafire L.III's and with these it took part in further Tirpitz raids. Then in October 1944 it joined the 30th Naval Fighter Wing for service in HMS. Implacable. After mine laying operations in December, the strength was increased to twenty four aircraft before re-embarking in March 1945 for the Far East. Joining the British Pacific Fleet in May, the squadron became part of the 8th Carrier Air Group with which it escorted strikes on Truk and later shipping and other targets around the Japanese Mainland. After VJ-day the squadron absorbed No.880 squadron to reach a temporary peak strength of forty eight aircraft before re-equipping with eighteen Seafire XV's. These were discarded on sailing for the United Kingdom in April 1946, No.801 disbanding on arrival on 3rd June 1946.
On the 1st July 1947 the squadron reformed at Ford with six Sea Hornet F.20's, being brought up to full strength of twelve in October when it joined the 1st Carrier Air Group. Embarking on HMS. Implacable in March 1948, the squadron saw service with the Home Fleet. In March 1951 No.801 re-equipped with twelve Sea Furies FB.II's, with which it joined HMS. Vengeance on 27th June 1951 from Lee-on-Solent. The squadron later joined HMS. Indomitable on 7th September 1951.